One of the best places to see truly wild horses in Mongolia is at Hustai National Park, just 60 miles out of the city.
I went there on my birthday, well the day before my birthday because I really wanted to turn 40 under the stars and not in a random hotel room in Ulaan Baatar.
For a birthday trip well, it was a rather flawed 'tour' experience but at least I got what I wanted in terms of seeing wild horses and spending the night in a ger.
We got to Hustai around noon in the afternoon and the driver found us a ger to spend the night at. This literally involved him driving around and honking at random gers. We quickly realized that no plans had been made prior to us just showing up.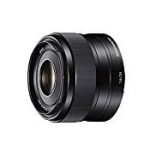 Check out great travel lenses for this powerful little camera. Find the lens that works for you and your style of photography.
Eventually he found a lady who would take us and we offloaded our stuff into the tidy little ger, it was our first time in one.
This ger appeared to be in a camp for those who work in the parks, and not a tourist ger. So we actually slept just outside the park.
The tourist gers are a lot nicer but they are also just at the entrance to the park as well, not in the park per se. We actually didn't mind the simpler ger at all, except for the scary outhouse.

Exposure
1/16000s ƒ/6.3 @ ISO 1250
Focal Length
14mm
Camera
DMC-GX85
Date & Time
June 7, 2019, 4:49 pm
Mongolia's Hustai National Park
After a quick lunch we headed into the park with the driver and a guide.
The way the park works is that it's a large area with only dirt road, requiring a 4WD vehicle as there are a lot of deep ruts.
You can drive only on the marked road, but you can hike on the land. It's very sparse though, and not exactly beautiful in a photographic sense. Mostly empty grasslands. It has its own beauty but I do prefer more mountainous landscapes.
I would not recommend expecting to walk around the park from the entrance, it would be a long, hot, boring, featureless walk for the most part.
Guides at the Park
So my first recommendation is to get a good guide from back in Ulaan Baator.
The girl who jumped into the car at the entrance, was someone who worked at the park itself. Again, this seemed to be a last minute negotiation, but still, we were excited since we figured she'd be a knowledgeable guide.

Exposure
1/3200s ƒ/8 @ ISO 1250
Focal Length
20mm
Camera
DMC-GX85
Date & Time
June 7, 2019, 2:46 pm
That excitement died quickly. She said, "I am Jek. I am guide" and went silent. Our attempts at asking basic questions were met with confusion or a one word answer (later confirmed to be a one word guess).
Side note: We got this tour without knowing how to score a really good tour in Mongolia. We were in a hurry because we arrived a couple days before my birthday, and I really wanted to be *somewhere* for my birthday. After this rather lackluster experience, we found a much better tour for our next one, and learned a few lessons on getting great value for your money on a budget tour.

Mongolia is a dream location for travel photographers. But budget options that provide good value are hard to find! Read on for my tips.
Going back to our "guide", turns out she spoke almost no English and did not know anything, although she did have an English book named "Fauna of Mongolia" with her that she would randomly read useless facts out of. Like, "Wild horse 350 kg".
I desperately wanted to ask her for the book because I could probably learn some interesting stuff in it, rather than having her misunderstand of ignore our questions or worse, guess the answer to. But she was sort of hiding it, so I didn't ask for it.
Takhi History
Either way I recommend you read up on the Takhi before you go.
I only did so on the drive back, but it made me understand and appreciate so much more what we had just seen and experienced.
Basically, the Takhi or Przewalski (pronounced Sher-VAL-ski) horses are the only truly wild horse in the world, which is to say they've never been tamed. All other wild horses are simply feral horses.
If other horses are the equivalent of feral dogs, then the Przewalski's horse is a wolf. – Rachel Nuwer
In the early 1900s, the Takhi were hunted and collected as an exotic animal and their numbers dwindled miserably.
At one point there were only 12 breeding horses left. TWELVE! These poor horses were on the absolute brink of extinction. By 1970, there were none left in the wild.
Then, in the 1990s, conservation groups and a Swiss ecologist named Claudia Feh started to try to reverse the extinction, by breeding the remaining horses.
What sort of idiot gives a nearly extinct breed a vasectomy, I don't know.
In fact, they reversed a vasectomy on one horse. What sort of idiot gives a nearly extinct breed a vasectomy, I don't know but I'm glad it was reverse-able.
Eventually the population grew enough to reintroduce them to the wild, with Hustai National Park being one of the major sites.
Today there are 2000 Takhi in the world, and the most amazing part of being there in early June was seeing so many Takhi foals with their moms.
When to See Wild Horses
To see the Takhi, it helps to go either really early in the morning or late in the evening.
At those times, the Takhi like to come down to the water in the valleys, where you have a better chance of watching them from up close.
Of course, since most trips to Hustai are day trips, this is tough to arrange.

Exposure
1/1000s ƒ/11 @ ISO 1600
Focal Length
90mm
Camera
DMC-GX85
Date & Time
June 7, 2019, 7:29 pm
In the middle of the day, you have to rely on luck, or else they'll be up on the tan slopes so far off that you can barely see them with your naked eye.
After a disappointing 2pm drive with the "guide", we returned from our first attempt having only seen the animals through a scope.
The only horses we saw up close, she gave us a bored look and said, 'normal horse'. Jokes on her, the Mongol horse is a unique breed in its own right and a big reason why Genghis Khan's army took over a quarter of the world.
These horses are hardy, graze off the land, and have incredible stamina compared to other breeds.

Exposure
1/5000s ƒ/8 @ ISO 1250
Focal Length
123mm
Camera
DMC-GX85
Date & Time
June 7, 2019, 4:04 pm
Still we did want to see the wild horses, so we went back later with just our driver at 6pm and had much better luck then!
When we saw a herd of Takhi and deer up on the slopes, the driver signaled to wait for a while, and they would come down to the water.

Exposure
1/2000s ƒ/8 @ ISO 1600
Focal Length
107mm
Camera
DMC-GX85
Date & Time
June 7, 2019, 7:51 pm
It was such a nice bonus to see the red deer as well, although they were so far off that you really needed a good zoom lens.

Exposure
1/2000s ƒ/8 @ ISO 1600
Focal Length
107mm
Camera
DMC-GX85
Date & Time
June 7, 2019, 7:58 pm
I used my 14-150mm which isn't the best at the long end but still does a decent job.
You really need image stabilization when you have a high zoom like that (150mm is the equivalent of 300mm on a full frame) because it becomes quite hard to hold the camera still.
The Interesting Moment
We did have an interesting moment as we waited. The driver sat down on a rock to wait so we figured we would do the same. As I sat down I felt something poke my jeans and brushed my hand to clear it.
Soon after my hand started stinging and I realized I had brushed against some sort of stinging nettle. It wasn't too painful but the driver realized what had happened and started saying 'Water!' and gesturing at my husband, Ryan, and pointing to his zipper.
We realized he meant, Ryan should pee on my hand! I tried to say, no it's fine, we can deal with it later! But he was adamant and got a bucket from his truck for Ryan to pee in. We were laughing by this point (because really it didn't hurt too much) but we went ahead and Ryan had a nice long pee in a bucket.
Then the driver poured it on my hand and gave me baby wipes to clean up after. The stinging stopped almost immediately!
The driver said, 'Good? Good?' (This was a popular word with many Mongolians) and I said 'Good!'
Then he told me to say Bayerlalaa  (Thank you) to Ryan and we all laughed.
I wished I could have shared that what I actually said to Ryan was, 'Thanks honey for my birthday present,' but that far surpassed my Mongolian and my gesturing ability.
What was amazing was how much we did communicate with the driver with minimal words and gestures – compared to the 'guide' who allegedly spoke English.
Sunset at Hustai National Park
By early sunset, after waiting about 20 minutes, the Takhi did in fact head down at the water and you could get quite good shots because they were further east of us, so really well lit up.
When shooting wildlife, try to burst a few shots each time. It helps because they are moving creatures, and any one shot might be ruined by the horse shaking it's head to flick off a fly or just looking the other way.
Watch also for the unique moments or animals in the group. I captured this mama Takhi feeding her baby foal.

Exposure
1/3200s ƒ/6.3 @ ISO 1600
Focal Length
150mm
Camera
DMC-GX85
Date & Time
June 7, 2019, 8:31 pm
The Takhi travel in a herd with one stallion and a 'harem' of mares. So I was looking out for who the stallion was.
I found this horse, standing away from the group, and on closer inspection of this photo, wink wink , he definitely is.

Exposure
1/2500s ƒ/6.3 @ ISO 1600
Focal Length
132mm
Camera
DMC-GX85
Date & Time
June 7, 2019, 8:31 pm
Wildlife at Hustai
As you move about the park, watch out for other wildlife such as the siberian marmot, rabbits, squirrels and eagles.
They are quick moving and we were so focused on the Takhi, I didn't get too many shots.
Make sure to get some variety yourself! I did manage to catch this rabbit who stopped to pose for a second.

Exposure
1/500s ƒ/7.1 @ ISO 1600
Focal Length
150mm
Camera
DMC-GX85
Date & Time
June 7, 2019, 8:57 pm
Second Chance Viewing
We did get a second chance at seeing the Takhi a few days later, and found it's not impossible to see them in the afternoon. It was a shady day and in some ways it was easier to shoot in the diffuse lighting.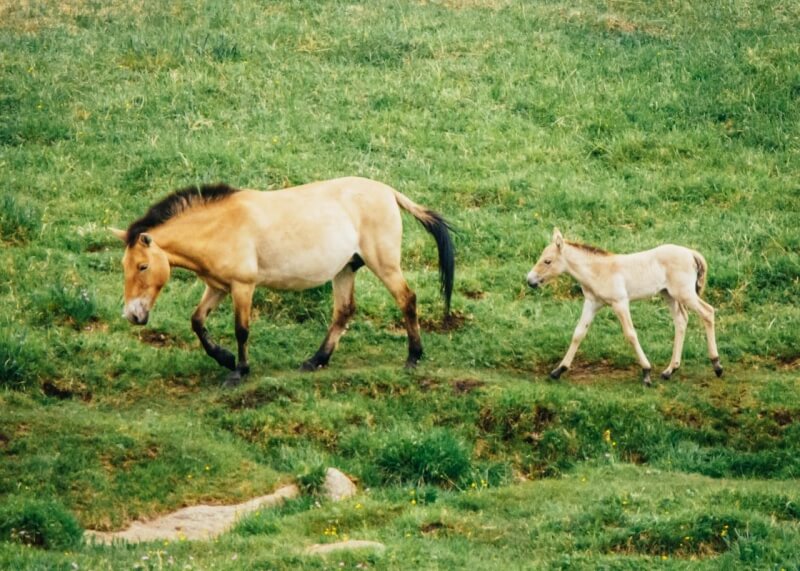 Exposure
1/1600s ƒ/7.1 @ ISO 1600
Focal Length
150mm
Camera
DMC-GX85
Date & Time
June 14, 2019, 4:45 pm
So in the end, I had a wonderful experience in Hustai National Park and the truth is, Mongolia is just tough so you just have to go with the flow. It can get a lot tougher if you go it on your own, but it will still be worth it.
Anyway if you want to see wild horses in Mongolia, Hustai National Park is the way to do it. Just give yourself some time to get lucky with your sighting, and bring a zoom lens!