Now that you've bought a micro four thirds camera, you're probably looking to get the best micro four thirds lenses for travel photography.
When traveling, I really prefer to pack light so I'll be focusing on what to carry if you want a minimal setup. Not everybody wants to go light, but I'm traveling long-term these day, so less is more, all day everyday.
I'm also a hobbyist, not a pro, so I aim for budget to mid-range choices. If your budget is higher, I mention some upgrade picks but personally, I try to steer away from the higher priced specialty lenses. Like I said, less is more and versatile is better than specialty.
READ MORE: Don't have a micro four thirds? Check out the best Fuji mirrorless lenses for travel.
What matters for Travel Photography
First I'll go over what to think about when picking a lens for travel photography. While it's not like any lens is 'designed' for travel photography, (and if they are I'd like to hear about it, haha!) there are some factors that do matter.
So I'm going to go over what makes a lens great for travel photography.
Weight
If you're not traveling light, then there's no difference between lenses for travel photography and your general kit. Just take every lens you'd like from ultra-wide to telephoto.
If you want a small, light kit, think carefully about what each lens adds to your arsenal, how much each lens weighs and how many you are willing to carry.
One thing to bear in mind, is that you can carry more lenses in your suitcase, and then only pick a couple of lenses for one outing.
I will carry 3 lenses or so on a trip, but I often stick to just one lens on camera for a particular day or location. So think about both those aspects when you pick your lenses.
Size
I often get guys asking me if a camera is pocketable. Now, as a lady, there's literally no camera that's 'pocketable' in my jeans, not unless I'm sporting those Thai elephant pants.
And lets be honest, noone wants to be caught dead in those. Except as pajamas, I concede they make great pajamas.
Anyway back to size, size matters – anything that makes it more or less likely that you carry your camera, matters. My small GX-85 gets quite big when I throw on a large lens like this.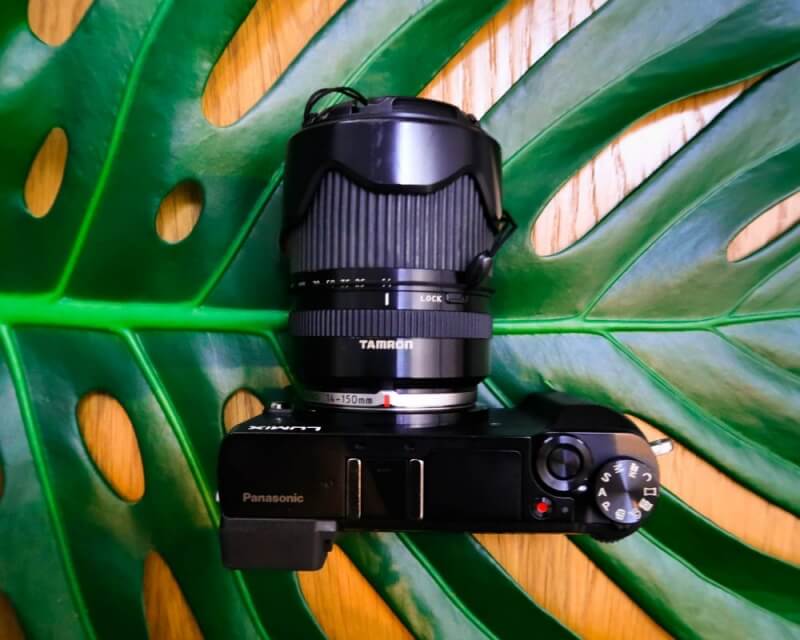 But as a woman, I carry a purse, and it actually does fit in my purse. Plus it's safe, as long as I use my favorite trick – the camera bag insert.
READ MORE: Why a DIY camera bag is the best Travel Camera bag.
For guys, the choice of lens can make an otherwise small camera completely unpocketable, but a pancake lens can easily be pocketable.
Focal Length
Focal length comes into play because travel involves a lot of different scenes. Sometime you want landscape shots of stunning limestone cliffs rising above the land, and portrait shots of local culture. Sometimes you want telephoto shots of wildlife and birds.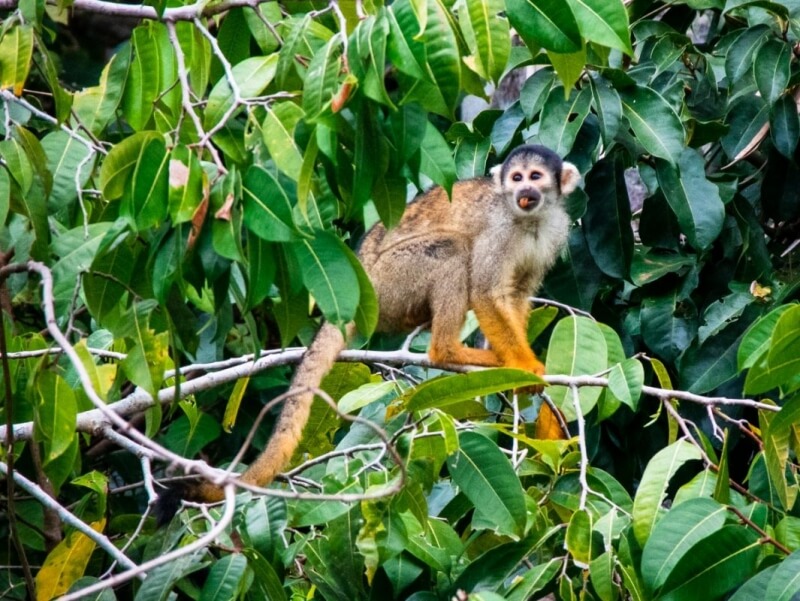 If you know you are more inclined to landscapes, make sure you have the wide end of the focal range well covered. Maybe invest in an ultra wide angle lens as well. However, if you are a big birdwatcher, perhaps a good telephoto will suit you better. The best m43 travel lenses really depend on you, the photographer.
Remember that the m43 format basically doubles your range so a 45-150mm is the equivalent of 90-300mm on a full frame camera. On the zoom side this is nice as you get a lot of reach. On the wide end, it means it's quite hard to get less than 24mm on the wide end.
Aperture
Fast lenses are always better since you can get shots with less light and narrower DOF for that nice bokeh. But they come with a price as they often require a physically larger lens. Good zoom lenses that have a wide max aperture are typically a good deal pricier than their slower counterparts.

I like to carry a separate prime lens for when I want some low light, narrow depth of field shots. This is especially if I go out to check out nightlife or live music. While not the traditional idea of travel photography, it's a part of travel for many.
Weatherproofing
Weatherproofed lenses can give a sense of security when shooting in wetter conditions. but check whether your camera is weather-proof too. I don't find weather-proofing to be that crucial, mostly because I've shot for many years without weatherproofing and not had a problem, even at Burning Man and in rainy weather.
Obviously once you start getting drops on the lens, it's not easy to continue shooting anyway. So it rarely gets to the point where rain gets into the camera. I worry more about dust, which means I take care when changing lenses. So in a way weatherproofing is something that comes up with travel lenses but you should think about how important it is to you.
Best Micro Four Thirds Lenses for Travel Photography
Next, I'll go over the best lenses you might want in your kit, and then you probably should pick a one or two lens solution for your style of photography. Here's the list of the best micro four thirds lenses for travel photography :
This walkaround lens, allows you to get a variety of shots from landscape to details is a massive upgrade to your kit lens at a hefty price around $1000. It's the priciest lens on the list, so if you're on a budget, the kit is fine, but this lens is just faster. For a lens you will keep on your camera all the time, it's worth it to spend a bit more.


Buy Olympus M.Zuiko ED 12-40mm Now
The kit lens on most Olympus cameras is the Olympus M.Zuiko 14-42mm F3.5-5.6. On Panasonic, your kit lens is Panasonic 12-32mm f/3.5-5.6.
You've probably noticed this lens has a similar range to those kit lenses, but the f/2.8 means it's a lot faster and that max aperture stays the same across the range.
Photographers LOVE this lens, in fact it's one that regularly stays on camera day in day out.
If you are shooting Panasonic, you might be better off getting Panasonic's version which I'll describe below, to best take advantage of the stabilization.
This walkaround lens has just a few mm greater range than the kit lens on Panasonic, but again the f/2.8 will provide much better low light performance. Same deal, it's about $1000 when not on sale.


Buy Panasonic Lumix G Vario 12-35mm Now
If you're into waiting for the blue hour to get that rich color, you might find that this lens suits your shooting style more than the kit. Paired with the IS, you might be able to get away without a tripod too.
This and the next lens are good budget telephoto zoom lenses so they have a reach greater than 100mm.
Remember, the MFT format doubles the effective focal length, so 45-150mm equates to 90-300mm on a full frame
The walkarounds above are the best micro four thirds zoom lenses for landscape photography as well as portrait views. So you can decently cover the paddy fields of Vietnam or shoot a local market. But If you're into bird or wildlife shots, more reach is necessary. And that's where a telephoto comes in.


Buy Panasonic Lumix G Vario 45-150mm Now
For e.g. these shots of endangered Humboldt penguins at Ballestas Islands, Peru would not have been possible without a range of 300mm.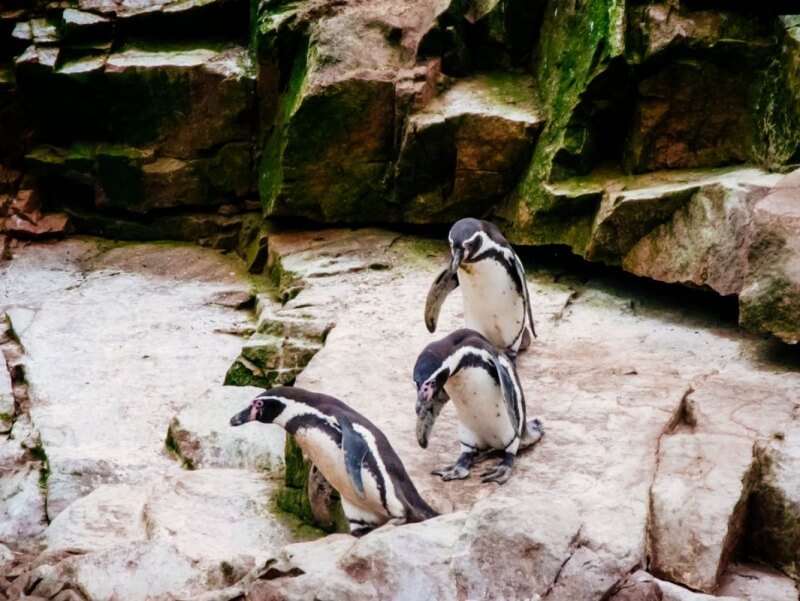 This Panny is a great budget pick for increasing your range to 300mm. It's quite sharp, has image stabilization, and the cost makes it really excellent bang for your buck. Another win is that it's quite compact at 200g.
The Olympus version of the previous telephoto zoom is almost exactly the same as the Panasonic, but without IS built into the lens. This is because Olympus cameras have built IS into the body, whereas Panasonic mostly puts IS into the lens.
Remember, IS is really important for telephoto shots as it is really hard to stay steady while zoomed in. So do make sure you have in-body IS if you choose to buy this lens.


Buy Olympus M.Zuiko 40-150mm f/4.0-5.6 Now
Note that some Panasonic cameras also have in-body stabilization, such as my travel pick the Panasonic GX-85.
READ MORE: Why the Panasonic GX-85 is my rec for best travel camera in 2019
So if you have the GX-85 you will have in-body IS, but if your camera doesn't have it, you might want to go for the Panasonic version of this lens mentioned above.
This low-light lens is great for those evenings where you head out for the night and hope you end up at an epic beach bonfire or an impromptu fiddle performance in the smoker's huddle outside the bar.
It will capture low light images with loads of bokeh with that extremely wide f/1.7 aperture. And that gives you some great atmospheric shots.


Buy the Panasonic Lumix G 20mm f/1.7
See how tiny it is? It's a pancake lens which is great for not being intrusive and still getting great shots.
Ultra-wide is hard to come by on micro four thirds, but seriously, the point-of-view you get? Can't be beat or faked.
It really enables compositions that are very dynamic and get the viewer to almost step into your shoes. It's definitely an optional lens, but it might be the best m43 lens for landscapes.
This Olympus is the one reasonably priced ultra wide that still gives you autofocus.
Okay, this lens is definitely an advanced maneuver so let me tell you a bit about it before you go for it.
It's 7.5mm which is 15mm effectively and one of the widest lenses you can get on m43 that isn't fisheye. I find fisheyes to be a little too gimmicky.
It's a rectilinear lens which means your lines should be straight just like a regular shot.
But it's manual focus, manual aperture only! And a relatively unknown brand.


Buy Venus Laowa 7.5mm f/2 Lens
One thing to know – with an ultrawide angle like this one, it's actually pretty easy to focus because you're not going to get too narrow depth of field, despite the f/2.
But fair warning if you really don't think you'd like to manual focus.
The shots I've seen from this lens are just beautiful and I'm definitely buying it the moment I get back to the States.
This one is a superzoom or all-in-one zoom. It has a massive range equivalent to 28mm to 300mm which means you can shoot landscapes and wildlife with this one.
To be honest, many photogs don't love these because they tend to be a bit softer and slower. However, I am lazy! I really don't want to change lenses during a day trip. Travel is a very variable environment, unlike a portrait or product shoot, and I don't like to be swapping all day. So this is the main lens I keep on my camera when I travel!


Buy Panasonic Lumix G Vario 14-140mm f/3.5-5.6 Now
These lenses are also great for those switching from a point-and-shoot or cellphone who want the quality of the larger sensor and better optical zoom, but do not want to carry more than one lens ever. With image stabilization built into the lens, you can pop this onto any camera and head out, skipping the tripod in most cases.
It's even fairly compact at 265g which is a marvel. I actually originally used a Tamron with roughly these specs, but eventually got this one and I love it.
Summary of the Best Micro Four Thirds Lenses
Alright people, there you have it. Those are some great lenses that should have you shooting all day and coming back with a ton of great images to process. Only question now is which ones do you get?
First let me summarize all of them with their weights and then go into how to put together a solution based on your shooting style.
How Many Lenses Should You Carry
Often times new owners of interchangeable lens cameras don't think about how many lenses they actually want to carry. They buy new lenses for all sorts of exciting specialty needs but soon realize they don't take them out very often.
To avoid falling into this trap, think carefully about what you like to shoot and pick a solution that works for you. Below are 3 solutions you could consider.
One Lens Solution
If you're going to go with one lens, then either an upgraded kit, or an all-in-one zoom is the way to go. The advantage of one lens is that you don't have to change lenses on the go, but one lens can't be all things so you will sacrifice something, speed or sharpness or range.
Two lens Solution
2 lenses gives you more opportunity to augment your equipment to suit your style. Take a walkaround lens and add on a second lens that is especially suited to the kind of shooting you prefer. But you do have to look at the weight of the combinations.
The weights in this table don't include the weight of the body, so keep that in mind, and add that in to get a weight for your setup.
These are just some examples of how to create a kit that works for you.
Conclusion
So there you have it, these are some of the best micro four thirds lenses for travel on a hobbyist budget. I hope you got some good insight on how to put together a setup that is minimal but works for you. Just remember, as long as you get out there and get the shots you enjoy, that's more important than any spec.
Here's a quick link back to the table of lenses >> Best m43 lenses for travel.
Thanks for reading!
This post has affiliate links. As an Amazon Associate I earn from qualifying purchases. The opinions presented are my own.