Vietnam is an incredibly beautiful country. I had no idea what to expect when we went there and it was quite stunning, so it was quite easy to put together this list of the best photo spots in Vietnam.
We were in Vietnam for almost 3 months in 2019. It's a long and skinny country, and has miles and miles of coastline. In fact, it's a 1000 miles from top to bottom and yet just 30 miles across at its narrowest point.
We actually only meant to be there for a month and a half, but as we kept going, we just loved the landscape and life there.
We started in Hanoi in the North and headed south from there. I didn't quite make it all the way to South Vietnam though, only reaching Central Vietnam before it got too damn hot and then we left.
So this list will mostly comprise north and central Vietnam. But no worries, I'll try to source and add more locations to this list to cover the spots I didn't quite get to.
Best Photo Spots in Vietnam
Below are some of the places I visited that I thought were beautiful or interesting. Hope you can use these to build your own Vietnam photography tour.
The following are some of the best photo spots in Vietnam.
Hanoi Old Quarter

Hanoi's Old quarter is a bustling center of motorcycles, food and crowds. With lots of tree-lined streets and tall, skinny, vietnamese buildings, it's very charming although extremely hectic.
Some fun things to shoot are the little shops packed with goods, the scooters zipping around, and the vendors pushing their carts along the narrow streets.
Trấn Quốc Pagoda, Hanoi

Trấn Quốc Pagoda is the oldest pagoda in Hanoi. It's actually a truly ancient pagoda, more than 1400 years old. Hard to believe right?
Its location in the the lake makes it quite a pretty sight as there is a little bridge that connects to the temple area.
Quang Ba Flower Market, Hanoi

We stumbled on this flower market quite by accident, after leaving the bars at 2am.
Yes, 2am! The Quang Ba flower market starts at 2 am at Au Co street across from the Tay Ho area. It's pretty amazing to see the stunning array of extremely fresh flowers. If you've noticed surprisingly grand bouquets all over the city for celebrating a new shop or a birthday, you now know where they come from.
Ninh Binh

During our time in Hanoi, we headed out to the countryside in Ninh Binh. Called the 'Halong Bay on land', it's a beautiful part of the country with karsts and winding rivers. You can bicycle around the gorgeous paddy fields, stopping to shoot when you please.
Bai Dinh Temple Complex

The Bai Dinh Temple Complex is in the Ninh Binh area and is massive! In addition to the 500 buddha statues that line the walkway, there are also multiple interesting pagodas and temples.
Pro tip – take the trolley ride to the main gate to avoid too long of a walk.
Trang An

Also in Ninh Binh, the Trang An complex is a must-do. Take a boat ride through gorgeous caves and rivers, winding in and around the karsts. Definitely worth it, it was one of the most enjoyable times of our trip.
Hang Mua Cave Viewpoint

Also in Ninh Binh – yes, it's got a lot to see – the Hang Mua Cave viewpoint provides a gorgeous spot from which to view the paddy fields of the area.
Halong Bay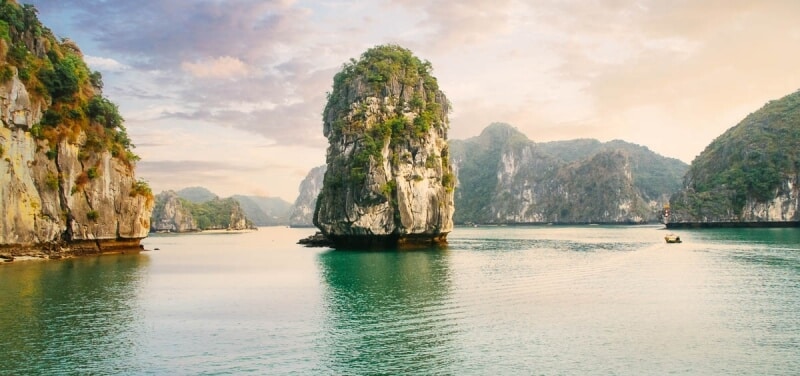 This beautiful location needs no introduction. We visited Halong Bay from Cat Ba Island and it was unforgettable. The famous karsts on the ocean, silent and majestic.
Marble Mountain

Temples hewn into a set of caves in a mountain, this is a beautiful location just outside Danang.
Final Words
Well I hope this gives you a taste of how mind blowingly beautiful and varied the sights of Vietnam are. It took my breath away time and again. I really hope you enjoyed this list of the best photo spots in Vietnam.