Mongolia is a dream location for travel photographers. But on arriving there, I was shocked to learn that when looking for Mongolia tours, budget options are surprisingly hard to find!
After spending months in South East Asia and South America, we were taken aback by the prices we saw on arrival in Ulaan Baatar. But after trial (and error, which I'll tell you about in a bit), we finally got lucky and had an amazing and perfect 4 day tour of Mongolia.
Finding a Budget Tour in Mongolia
1. What's your budget?
To level set a bit here, we were looking for a shorter tour, around 5 days, preferably about $50 per person per day.
We'd just been traveling in Vietnam and Thailand and it was normal to find tours that cost $20-30 per person for the day, and very nice hotel rooms, with made-to-order breakfast, for $10-15 for both of us.
Imagine my surprise when researching online tours in Mongolia, affordable tours were pricing out at $100-200 per person per day!
Here's a price list for a 2 day tour, just heading out one day and returning the next.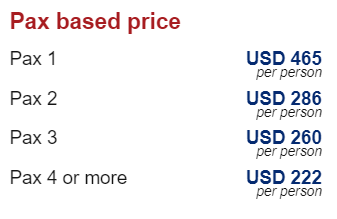 So for a couple (pax means passenger) this would be $286 per person! For two days at a park. I think Disneyland is cheaper.
Just for comparison, we did everything listed on this tour itinerary within our trip, at $50 a day.
We didn't want to go solo and DIY things, because that's just not the experience I wanted to have. It was my birthday and I wanted an easy and fun trip with a group – hopefully one we could share good times with and remember fondly.
Another great way to see Mongolia in the summer is bicycling and camping. We met a German lady who was bicycling all the way back to Berlin from Mongolia! Of course, for this kind of travel, you need to bring your bicycle-ready camping gear.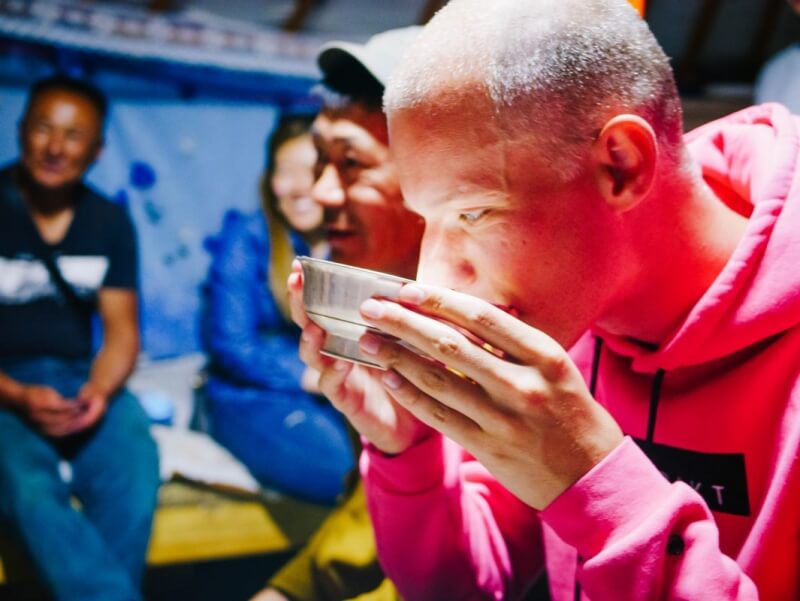 I also wanted some basic stuff taken care of so we could just enjoy the journey. I really didn't want to cook on the road, subsist off cereal bars, deal with a broken down vehicle, or worse, get lost in the Gobi desert (which, when I write it like that sounds like a charming travel experience, but in reality is probably awful.)
Call me a wimp, but there it is.
Everything we found online that fit this admittedly basic descriptions was going to be in the thousands for the two of us!
2. Why are tours in Mongolia So Expensive?
So why are tours in Mongolia so expensive?
After all, as you'll see, they're a bit like camping. You're out in the wilderness, your bathroom is an outhouse if you're "lucky", a field if not. And most families you stay with will feed you mutton and rice, of which there is plenty in the country.
You're out in the wilderness, your bathroom is an outhouse if you're "lucky", a field if not.
The reason has more to do with the type of travel that Mongolia necessitates. You see, most tours are done in groups of 6 or so. A driver, a guide, a trusty Russian minivan and 5-6 travelers bumping around into the wilderness.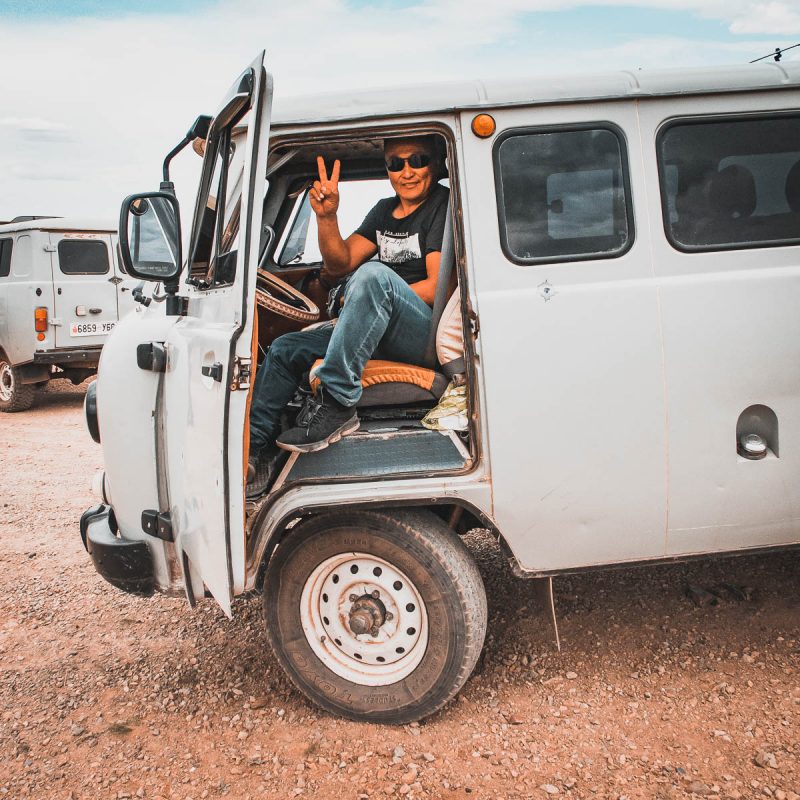 The driver, the guide, the van and the petrol are the real expenses. If you're single or a couple, you still need all that, and you'll have no one to split that overhead with. The accomodation and food cost much less in comparison. So you end up paying a LOT.
Why can't they just use larger buses you might ask?
In Mongolia, tourist attractions are spread out over the vast country, and the terrain in between is really tough. We were genuinely offroading for hours in this difficult vehicle with, thankfully, a really skilled driver.
Everytime we stopped, he was under the van fixing it up and maintaining it.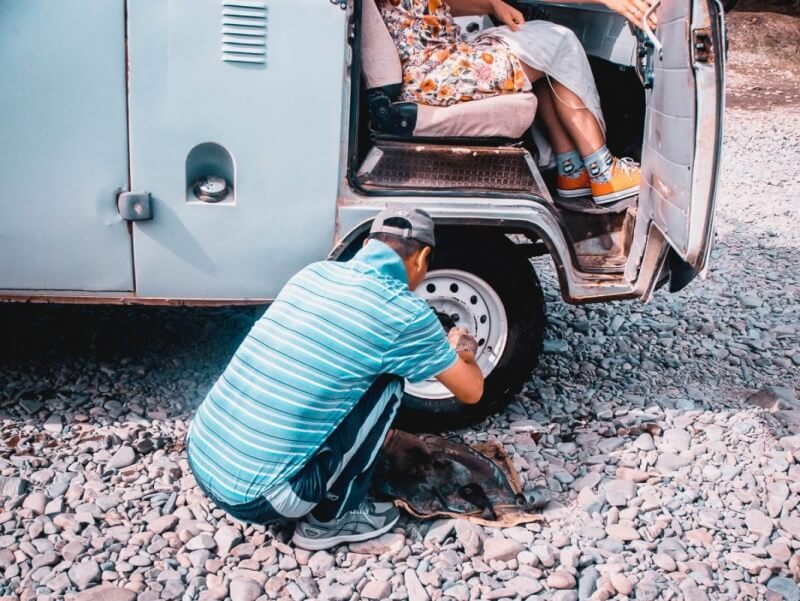 A bus would not be able to handle the terrain, or wouldn't be able to go to many sights. You would miss a lot though.
The wilderness is a big part of the charm of Mongolia, being out there and not restricted to the the roads.
So you need the smaller, 4wd vehicle, which means you need that small group of people, to really explore the country. A group of 5-6 is the norm. So if you want a cheap tour in Mongolia, you just gotta find your group.
3. How to Find a Group Tour in Mongolia
So where do you find this group tour? There are few set itineraries and no set dates. Only the very high end places have prearranged tours that you can just buy online. The most popular tours seem to be 2-3 day tours to nearby national parks, and 8 day Gobi desert tours, to give you an idea.
Everyone else seems to operate with the same level of organization shown by people arriving at an airport and finding strangers to share a cab with.
I tried contacting some tour agencies and they said they would find people but never actually got back to me.
Which is to say, you show up in UB, you find some strangers to share a tour with, then you come up with an itinerary and negotiate with the cab driv- sorry tour agency.
So your best bet really is to find that group of travel buddies yourself, in any way you can. The tour companies will claim that they will find people, but it's a tough job for them, so that doesn't really happen.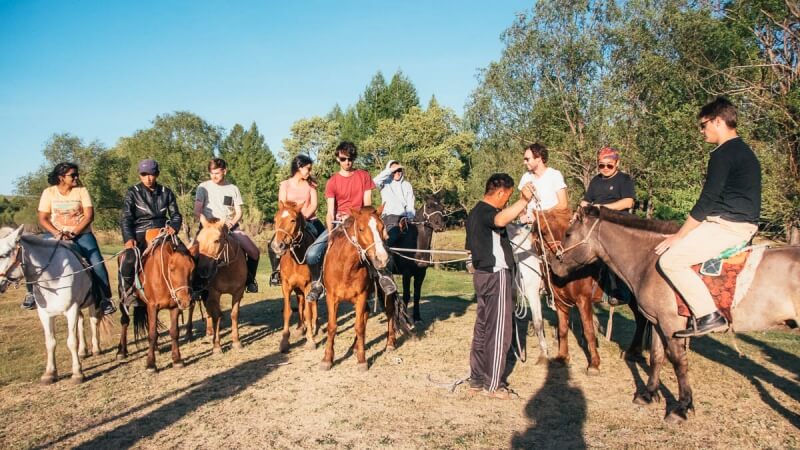 I tried contacting some tour agencies and each time they said they would find travel buddies but never actually got back to me. I even found that if they did have a tour already going, matching my request, they still didn't get in touch.
Some had a website where you could see other tours and request to join. This seemed like a great idea, but again we had no luck with this method at short notice.
Don't expect that they will solve this (admittedly hard) problem for you. They won't.
They just don't have the bandwidth to keep track of everyone that's contacted them.
So you need to find your group! How do you do this? There are a few ways, the best is likely staying in a hostel that does good tours. You have the best chance to get organically matched up with a group and will probably be able to meet like-minded people.
4. Hostels with Great Tours in Mongolia
There are some hostels that have good reviews both for staying and for their tours. We liked where we stayed but we had a poor tour with them. It was just an overnight at a park when we first arrived in Mongolia, but it gave us some insight on what to look for in our second longer tour.
Instead, I can recommend Danista Nomads Hostel for multi-day tours. We didn't stay there, but we organized our tour with them, and traveled with a bunch of people who did stay there and liked it. They have great reviews online, and we had a great experience with them.
In our case, since we were not staying with them. we had emailed Danista Nomads. They promised to let us know what tours they had going, which of course they did not. But then my husband walked over and talked to them in person, got solid details, and we confirmed over Facebook.
Had we stayed there, it would have been much easier. A couple that showed up the day we were leaving on the tour, heard about our tour and joined us on the spot! That's how easy it was for them.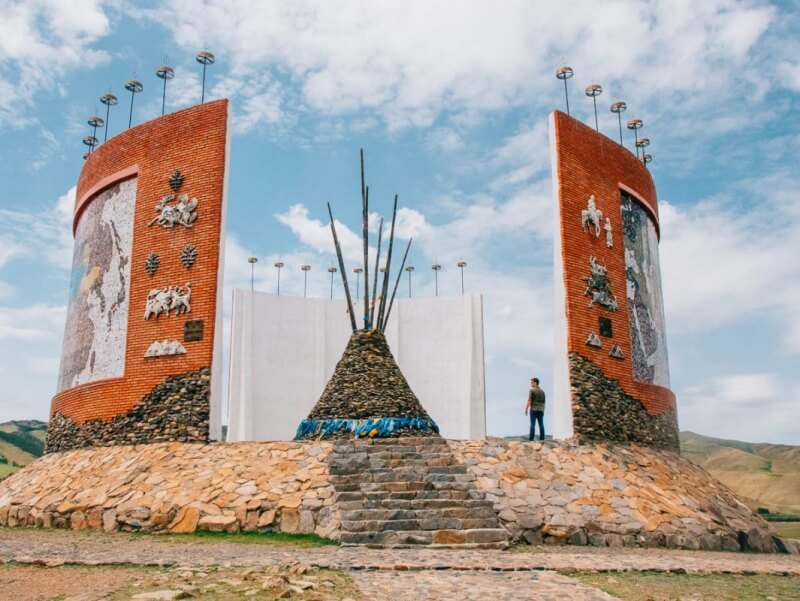 Similarly, I heard Golden Gobi was a great place for this. Again, we didn't stay there. We walked over to talk to them, they showed us a tour, we told them we were interested but would get back to them that day. And after we walked away they completely stopped responding to all emails and whatsapp messages.
Seeing a pattern? Do not wait for them to email back. They may give you some basic info over email but you're way better off closing the deal face to face.
I'll let you in on another pattern I noticed. The tour prices posted online (like the ones you saw above) are consistently a LOT higher than what they will tell you when you ask. So if you want a cheap tour in Mongolia, you have to talk to them directly and get a price per day per person.
Don't disqualify a company because their website says $100 a day, it's better to contact them. The real rate may be half that.
I don't know why this is – maybe they expect people to haggle it down? Anyway, don't be turned off from messaging them to find their real rate. Just don't expect them to find you your group, you definitely have to do the legwork there.
5. What if I Don't Have Time in Ulaan Baatar
If you don't have time to get to Ulaan Baatar and spend some days sorting this out, the best plan is to find your group of travel buddies beforehand. Post on any travel sites you can to see if you can find a like-minded group to join.
Really, believe me, this is all you need, a travel group.
Start a month or so early, and try the following platforms:
Also try checking with a bunch of reputable companies to see what tours they might already have leaving. Some have this info on their website but it's not the most up-to-date.
Just a heads up, on the Facebook group, you will get countless "tour operators" asking you what kind of tour you want. This is useless because it puts you back at square one – needing to find a group to go with. And most of the "guides" who contacted me did not have any reviews.
If a tour company with good reviews contacts you, great, you might find a good opportunity. But fair warning, because I just got a lot of randos DMing me.
Your goal here is to find a group of travelers, not a tour operator.
Once you find a group, you're golden. Rejoice, have a glass of wine and put your feet up.
Because now you can basically approach any tour company and they will help you put together an itinerary that works for you.
6. How we Found Our Budget Friendly yet Beautiful Tour
So – is that what we did? Of course not, because we didn't know all this before we got there.
Right after we got there, like we mentioned, we did a short overnight arranged by our own guesthouse and it was really hilariously terrible.
At one point, they gave us one teabag to share between the two of us for teatime. We joked we should keep it for the next day, but of course we threw it out. The next day we got hot water and no teabag. Wah wah.
We refer to this as a one-teabag experience, not sure if that's a rating allowed on Tripadvisor.
It was actually fine for a one night trip, more funny than anything, and we saw some amazing wild horses in Hustai National Park nonetheless, but we were really nervous about ending up in a similar situation for a multi-day trip.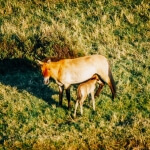 Read more about the beautiful truly wild horses at Hustai National Park. They were almost extinct and are now thriving in the wild.
Instead, we searched around online, checked reviews, messaged tour companies, and waited hopeless, while we got more and more desperate.
Finally we caught a break when my husband walked over to Danista and found they had a 4 day tour leaving soon that we could join. We joined up and the whole group ended up being 9 travelers, with two vans, guides and drivers.
7. The Tour Experience
The tour was simply awesome. It was a 4 day tour with a variety of beautiful national parks, museums and historical sights. It was $50 per person per day, just as we'd hoped.
What we didn't know was that one of the people on the tour was a history buff and had done her research, and designed the itinerary really well. She'd done it right, gotten a group together ahead of time, and then made the tour they wanted.
And it was not a one teabag experience! Even though this tour was cheaper than the one we'd done previously, it was a 10 teabag experience.
We stayed in comfortable gers in beautiful places and had lots of food, including a great mongolian BBQ with the whole group.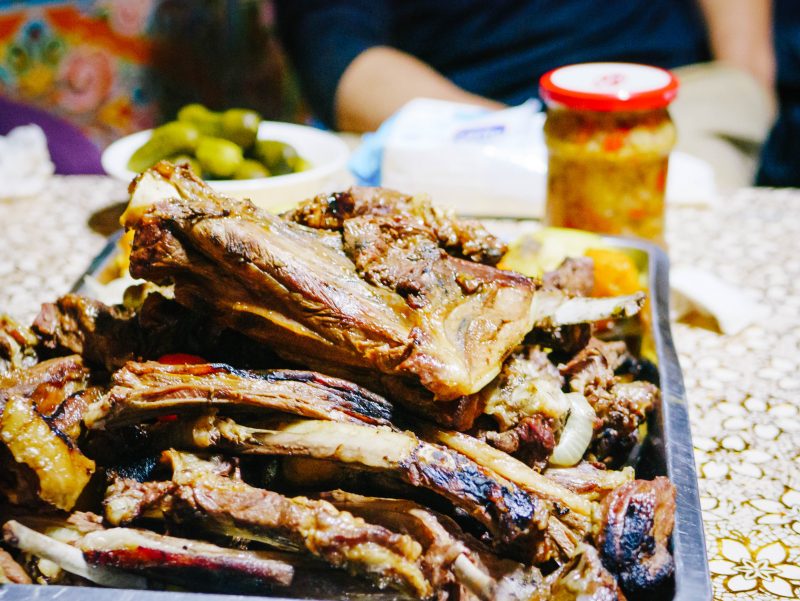 We saw a throat singing demonstration, and visited some ancient monasteries and museums.
We rode camels, and horses, saw wild horses, golden eagles, as well as countless cows, sheep, goats and yak.

We saw plains, mountains, lake and desert.
We were never bored, yet didn't feel too tired or too rushed.
8. Our 4 Day Itinerary
The 4 itinerary included the following sights:
Museum of Bogd Khan – The Winter Palace of Bogd Khan, it surprisingly was spared from destruction by the Russians and turned into a museum.
Zaisan Monument – A monument on a hill near UB, with view of the city
Chinggis Khan Statue – Gigantic statue of Genghis Khan on a horse, you can climb into it up onto the horse's mane
Terelj National Park – Beautiful national park, we did a horse ride here through fields of sheep and yak
Elsen Tasarkhai – Small strip of desert, we did a camel ride here
Throat Singing Demonstration – Unusual form of singing, unique to Mongolia
Erdene Zuu Monastery and Museum – Buddhist monastery built in the 1500s, site of a recent archaelogical find
Ovoo Mongol States – Massive Ovoo or altar of Mongolian shamanism
Lake Ogii – Quiet lake area with gers and teepees
Hustai National Park – National park where the almost extinct Mongolia takhi were reintroduced
That's just a quick run-through. Of course there's a lot we didn't see but it's a huge country and you could spend months there trying to experience everything.
We felt really lucky to have found a great way to see Mongolia in a comfortable, safe, enjoyable way staying within our budget.
Our Mongolia tour budget was around $500 each for the whole trip. We spent $100 each on the first (crappy) 2d/1n tour and $220 on the second awesome 4d/3n tour, falling well within our budget.

Check out my detailed post on the tour experience.
This post has affiliate links. As an Amazon Associate I earn from qualifying purchases. The opinions presented are my own.