I like to head to the Crystal Pier in Pacific Beach to practice surf photography in San Diego. The pier makes it possible for anyone to get great photos of surfers with minimal gear. I'll explain why in a second.
Heads up though, the waves aren't amazing here, and the surfers aren't pro – you're not going to catch Kelly Slater!
But I love getting an opportunity to try a new technique and style. You'll get to practice some high-speed shots, valuable not just for surf photography but also any type of sports photography.
In addition, it's also a beautiful, sunny, scenic spot to hang out, no rain gear or heavy bags needed.
SAN DIEGO WEATHER TODAY
Surf Photography in San Diego
Crystal Pier is popular for beautiful views of Pacific Beach, the San Diego neighborhood in which it lies.
Pacific Beach sometimes gets a bad rap for its youthful crowd. The beaches, bars and restaurants have their share of a young, rather fratty culture. But I actually used to live there (for more years than I'm willing to admit), and I loved it. It's super walkable and has a little of everything.
The walkability and surroundings are a huge plus when you're traveling alone or with family. Plenty for everyone to enjoy while you take some time for a photowalk.
The Nitty Gritty
[table id=1 /]
Why the pier helps you shoot surfers
It gets you closer to the action! Usually, if you want to try your hand at surf photography, you need to stand on shore and have a lens with some serious zoom. Or you need to be in the water.
Pat Stacy, a pro surf photographer, suggests a 600mm lens as well as a 70-200mm lens to shoot from shore. Ouch, that's some heavy and expensive gear and now guess what? You need a sturdy tripod to stabilize it as well.
If you shoot from the water, you'll need a water housing and possibly a boogie board, jetski or helicopter! Pat's photos are amazing and I mean, that sounds super fun. But it's not the kind of gear I'm usually traveling with (or can afford!).
At this location, you can walk all the way to the end of the pier which gets you close to the surfers as long as you have a versatile zoom lens. This makes it an easy spot to practice some surf photography.

Exposure
1/1250s ƒ/8 @ ISO 400
Focal Length
70mm
Camera
Canon EOS DIGITAL REBEL XTi
Date & Time
July 28, 2007, 10:05 pm
Use Shutter Priority to Freeze the Action
As with any sport, this is a good time to try out your shutter priority shots. Shutter priority allows you to set the shutter speed which will freeze or blur action.
In the shot below, I used 1/800 sec to freeze the surfer and the water. If you don't have enough light, you may not be able to use such a short shutter speed! This is why early in the day will be the best time to shoot, as you'll have good light, and the sun will  at the right angle to light up the surfers.
Those shooting without manual mode, try the sport setting on your device if you have it. It will attempt to do the same thing.
To learn more, this article on shutter speed will give you all the detail you need.

Exposure
1/800s ƒ/6.3 @ ISO 200
Focal Length
122mm
Camera
Canon EOS DIGITAL REBEL XTi
Date & Time
July 1, 2007, 11:31 pm
Focus On the Flow
One thing I like about surf photography is that the surfers are really really focused, and the expressions on their faces can be priceless. They are so in the flow that they're not paying attention to you at all. All they're thinking about is the movement of the water and their own balance.
I love photos where you can capture someone completely lost in the moment. You can see in this one, it's almost like he's sticking his lips out to help himself balance.

Exposure
1/800s ƒ/5.6 @ ISO 400
Focal Length
112mm
Camera
Canon EOS DIGITAL REBEL XTi
Date & Time
August 8, 2007, 3:57 pm
Touch the Water
After shooting for a little while, you'll start to see patterns in the surfers' movements and then you should start timing for the perfect moment. I loved the way this surfer's hand trailed in the water, so I watched out for it to get the shot.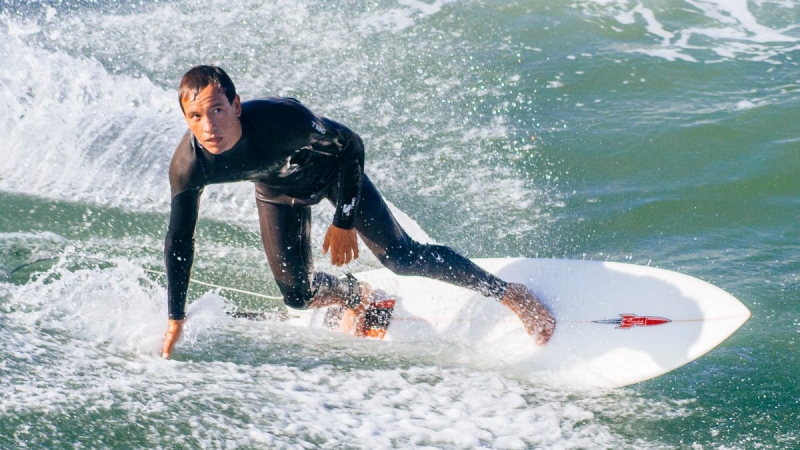 Exposure
1/640s ƒ/6.3 @ ISO 200
Focal Length
107mm
Camera
Canon EOS DIGITAL REBEL XTi
Date & Time
July 1, 2007, 11:36 pm

Exposure
1/800s ƒ/7.1 @ ISO 200
Focal Length
133mm
Camera
Canon EOS DIGITAL REBEL XTi
Date & Time
August 4, 2007, 7:27 pm
Watch for Moments
As always, while shooting, it's always good to look in all directions to improve your eye. Look close, look far, zoom in, zoom out.
Look behind you.
Photography is not just about getting the shot you went for, but also finding the moment that just happens.

Exposure
1/800s ƒ/6.3 @ ISO 200
Focal Length
70mm
Camera
Canon EOS DIGITAL REBEL XTi
Date & Time
July 1, 2007, 11:46 pm
So, go on and get out there. Whether you're a local or a traveler, it can be fun to try your hand at surf photography in San Diego as surfing is a big part of San Diego culture.
This post has affiliate links. If you use the link, you don't pay anything extra but Sidecar Photo gets money for another glass of wine!