Wondering whether to go to Khustai or Terelj? Really they are quite different! Gorkhi Terelj National Park is worth staying overnight and even 2 nights, whereas Khustai is worth a 2 hour visit.
We visited both in June of 2019 and actually stayed overnight at both but would not stay overnight at Khustai again. Read on to learn more.
Khustai or Terelj?
We first visited Khustai and stayed overnight but man, we spent a lot of time in the ger wondering what to do with ourselves.
Khustai is a dry and dusty park that you need to drive through (in a 4WD vehicle) so it's not very well suited to hiking or exploring at your own pace. Even the ger camps are just outside the entrance, not really inside the park.
This is totally understandable given the delicate nature of preserving and growing the Takhi horse population. That said, it's the only reason to really visit Khustai – to see these horses and learn their incredible story.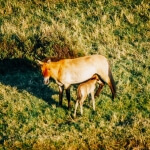 Experience the incredible Takhi who were once almost extinct but have been reintroduced to the wild, at Hustai National Park.
So it's great as a 1-2 hour experience to see the almost-extinct breed of wild horses called the Przewalskhi or Takhi horse.
Terelj, on the other hand, is a huge park which is a nice taste of Eastern Mongolia. It's full of green valleys and rocky mountains and excellent for landscape photography.
You can stay deep inside the park overnight, and enjoy the beauty around you. Lots of nomads live within Terelj so you can see their horses, goats and cows grazing on the hills. There are some cool sights as well which I'll cover below.
Terelj National Park
We arrived at Terelj at around 4pm after seeing the Chinggis Khan Equestrian statue. The statue is a popular sight to bundle with your Terelj visit because it is so close by.
Immediately, the landscape feels different, lush, green and hilly versus dry and drab.
There are camps within the park for tourists to stay at, and some look quite fancy. But I'm excited that we plan to stay with a nomad family.

Exposure
1/400s ƒ/8 @ ISO 200
Focal Length
31mm
Camera
DMC-GX85
Date & Time
June 11, 2019, 3:50 pm
I do love the contrast of the barren rock features rising up from the grassy plains.
Turtle Rock
Our first stop is Turtle Rock, which apparently is a rock that looks like a turtle. While that seemed kind of random, Mongolians consider turtles a symbolic of longevity and wisdom, so you can see why this massive rock in the shape of a turtle is meaningful to them.

Exposure
1/1250s ƒ/7.1 @ ISO 800
Focal Length
31mm
Camera
DMC-GX85
Date & Time
June 11, 2019, 4:03 pm
Aryapala Temple
Next we walked up a hill to the Aryapala Temple of Meditation. Along the walk are a number of buddhist quotes, many of which are cryptic to the point of being a bit humorous.
Mongolian buddhism is a unique path of buddhism with traditions of shamanism woven through.
Well, it was nice to have something to read as we walked up the hill.
At the top of the hill was a wheel you could spin to obtain a number that was linked to a meditation quote further up the hill. The wheel is beautifully painted in the floral Mongolian style that I saw in so many gers.

Exposure
1/1000s ƒ/4 @ ISO 800
Focal Length
14mm
Camera
DMC-GX85
Date & Time
June 11, 2019, 4:34 pm
Once you have your number you keep walking and find your numbered meditation phrase to reflect on. Mine was so cryptic I could barely understand it. Perhaps one needs to spend a lot of time contemplating to really understand.
At the top of the hill, you can visit the temple but don't forget to actually turn around and actually take a shot of the view down the valley, which is just stunning.
Actually, just as I got to this point, my camera battery died! Rookie move. And I was forced to shoot with my phone because I had left my bag in the van. Still I think the shot came out great.
Don't be like me, check your batteries before you climb a big hill to shoot! To get good focus throughout the range, either use a small aperture or figure out your lenses hyperfocal distance and adjust accordingly.

Exposure
1/1600s ƒ/2 @ ISO 50
Focal Length
3.99mm
Camera
moto x4
Date & Time
June 11, 2019, 4:48 pm
Nomad Camp
Finally, we drove for a short while and suddenly headed straight into a field that was completely empty except for a couple of gers and a lot of animals.
This was the nomad family that we were going to spend the night with! It was so lovely to find ourselves alone in a field surrounded by cows, goats and horses, and sheepdogs, vs. in a camp.
We shared some snacks with the family – aaruul is a dried milk curd, and milk tea.

Exposure
1/35s ƒ/2 @ ISO 290
Focal Length
3.99mm
Camera
moto x4
Date & Time
June 11, 2019, 6:29 pm
Next we headed out on a horse ride, which was really beautiful and I super regret not taking my camera!
In the past, I've ridden horses and felt my camera bounce around so much I worried about its safety, so I was unsure about carrying it. I'm not the most comfortable on a horse so I didn't want to be adjusting my camera all the time.

Exposure
1/2500s ƒ/5.6 @ ISO 1000
Focal Length
76mm
Camera
DMC-GX85
Date & Time
June 11, 2019, 7:01 pm
Turns out this ride was so slow and gentle, I could have taken it. So I think in the future, I would perhaps carry it in a sling backpack or somewhere I can access it easily if it feels safe to do so.
After the ride, I was keen to get a few shots with the last light as the sun dipped below the hills. I got this beautiful shot of the cattle dogs.

Exposure
1/1600s ƒ/5 @ ISO 1000
Focal Length
41mm
Camera
DMC-GX85
Date & Time
June 11, 2019, 6:55 pm
As night set over the camp, we headed to our gers to chill out and get some rest. The sky looked beautiful over the gers.

Exposure
1/1250s ƒ/4 @ ISO 1000
Focal Length
14mm
Camera
DMC-GX85
Date & Time
June 11, 2019, 8:12 pm
Staying with a nomad family  is just such a great way to get the time to relax and enjoy Gorkhi Terelj National Park at your own pace. On tours I always find everything so fast paced that I can't get the time to explore as much as I'd like or wait around patiently for perfect lighting or a great composition to get the shot.
We stayed one night here, but in my one week itinerary of Mongolia, I recommend staying 2 nights so you have a whole day's worth of light to shoot with.
Yaks and Horses
The next morning, I headed off to get some more shots of the cattle and horses before we headed off. There were yaks at a distance that I really wanted to shoot. Don't they just look like some sort of cow dog?
Turns out they are quite shy and would lumber away anytime I got close. I did get a couple of good ones thought, nicely backlit with the morning light.

Exposure
1/500s ƒ/5.8 @ ISO 640
Focal Length
150mm
Camera
DMC-GX85
Date & Time
June 12, 2019, 8:36 am
I also saw a herd of horses grazing with the hills behind them. Always try crouching and moving around to help change and arrange your composition. But be careful of course, don't walk behind horses or get too close, some startle easily.

Exposure
1/2500s ƒ/5.6 @ ISO 640
Focal Length
70mm
Camera
DMC-GX85
Date & Time
June 12, 2019, 8:39 am
This herd had a foal among them. He was just so beautiful I had to get some good shots. But again, keep your distance. In this case, I could tell that either mommy or daddy was watching me closely, so I relied on zoom and gave them their space.

Exposure
1/2500s ƒ/5.6 @ ISO 640
Focal Length
70mm
Camera
DMC-GX85
Date & Time
June 12, 2019, 8:39 am
After a nice hour shooting, it was time to get breakfast and head on.
Gorkhi Terelj National Park – Final Words
In two words, worth it. And worth a longer stay. The Gorkhi-Terelj National park is just huge and beautiful with a lot of potential for landscape and animal photography. I had a lovely time here and wished I'd stayed longer.
Need more ideas in Mongolia?

Mongolia is so vast, it's tough to see a variety of things in a short tour. Try this Mongolia itinerary to experience some of the landscapes, culture and history in one week.