So you're considering one of these excellent Panasonic cameras? I really love Panasonic's lineup, but even I have to admit they are not the best at naming and differentiating their cameras. No matter how much I try, I can't remember their naming convention resulting in a bit of confusion. The Lumix gx85 vs g85 is a perfect example of this. Not only are the names incredibly similar but the cameras themselves have a lot in common. So which one's right for you?
I'm going to quickly (and hopefully concisely) clear up the naming mess and then explain the main differences between the two cameras.
Lumix G85 vs GX85
Panasonic likes to name their cameras different things in different markets so let's start out by clearing that up. The main markets are North America, Japan and non-North American markets like Europe.
Here's a quick table of the names.
| | North America | Japan | Europe |
| --- | --- | --- | --- |
| Panasonic Lumix | GX85 | G7X Mark II | GX80 |
| Panasonic Lumix | G85 | G8 | G80 |
So the names on one row refer to just one camera. In other words:
The Lumix GX85 is also called the G7X Mark II and the GX80.
The Lumix G85 is also called the G8 and the G80.
Now that that's cleared up, let's compare the GX85 and G85.
Panasonic GX85
So let me introduce you to the first camera… The Lumix GX85 is a mirrorless Micro Four Thirds camera with rangefinder styling.

Shop now for Panasonic Lumix GX85
If the previous sentence sounded like gibberish, here's a quick breakdown of terms:
Mirrorless cameras don't use the mirror present in SLR cameras, so they are smaller and more compact.
Micro Four Thirds is just one type of mirrorless camera. It's based on a standard created by Olympus and Panasonic, which sets the size of the sensor, and also allows you to use Olympus lenses on Panasonic bodies and vice versa.
Micro Four Thirds is sometimes shortened to M43 or MFT. The combination of the the smaller sensor and no mirror means that M43 cameras can be the smallest interchangeable lens cameras available.
Rangefinder-styling is similar to vintage rangefinder cameras in it's rectangular boxy style. They are great for discreet shooting, street shooting because they don't scream PROFESSIONAL PHOTOGRAPHER COMING THROUGH!
Rangefinder used to refer to a specific type of viewfinder but nowadays it's more likely to be used to describe style vs. function.
Quick Summary
The Panasonic GX85 offers 4K video with 5 axis image stabilization when used with Panasonic's own lenses. That image stabilization really comes in handy when hand-holding the camera for still photography too.
Here's one handheld for 1 whole second. There is motion blur from people moving around (which is the effect I was going for) but where the subject is not moving it is quite still. This was taken with the GX85.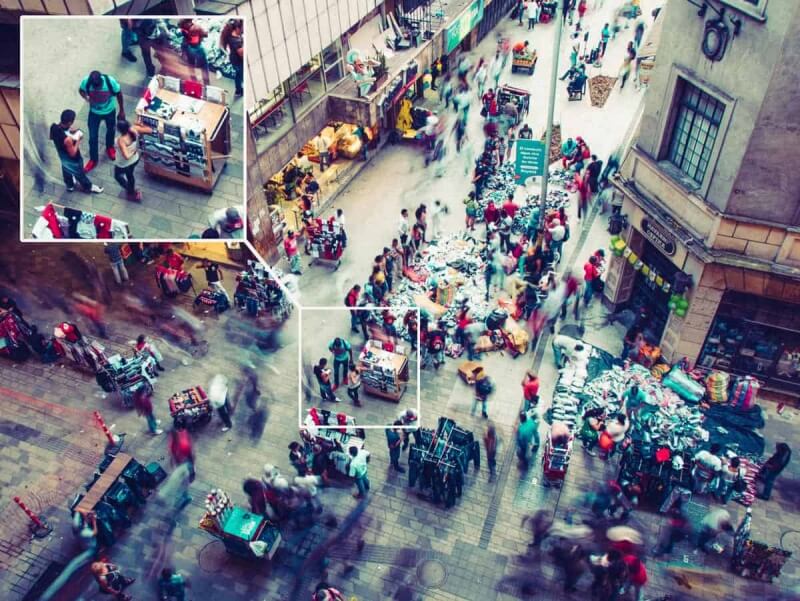 The camera has a 16MP sensor but Panasonic removed the low-pass filter which improves fine detail resolution, when compared to the same sensor with the filter. This was a first for Panasonic, but appears have to have worked very well.
While being rather small, the Panny GX85 is packed with features found on the larger cameras in the lineup. It has:
4K photo mode – Allows you to extract photos from 4K video.
Electromagnetic shutter – Removes 'shutter shock' which some mirrorless cameras suffered from.
Post focus – Creates a 4K image where you can choose focus later. + 5-axis sensor IS with rotation correction.
Basically state of the art image stabilization which is also available in video mode.
But this isn't a detailed review of the GX85, just a comparison of Lumix G85 vs GX85 so let's move on to the G85. If you do want to check out more details – see this article on why I recommend it as the best travel camera.
Panasonic G85
The Panasonic G85 is a mirrorless Micro Four Thirds in an SLR style.

Shop now for Panasonic Lumix G85
Quick Summary
Note, the G85 is still a mirrorless so it's not technically an SLR but it has a larger body more recognizable in SLRs and molded for an easier grip.
It also offers 4K video with 5 axis sensor shift Image Stabilization. And it has the same 16MP sensor without the low-pass filter.
It's also got every one of those great features I listed before:
4K photo mode
Electromagnetic shutter
Post focus
5-axis sensor IS with rotation correction
Differences between the Lumix GX85 vs G85
So if it sounded like both cameras are very similar, that's because they are. Most features related to image quality are about the same. The short of it is, you are going to get very similar images shooting with either of these cameras.
The differences are more to do with whether they are more suited to a specific set of needs. I'll go over them one by one so you can figure out which one's right for you.
Here are the differences between the Lumix GX85 and G85:
1. Size – GX85 is a smaller rangefinder style.
This is probably the most notable difference right upfront. As mentioned before the G85 is a SLR style camera and the GX85 is a rangefinder style camera.
Rangefinders typically are smaller cameras, as you can see in the image below.


Personally I really like the size of the GX85 but if you have large hands, the G85 might be a better fit ergonomically.
While they may not look substantially different from the front, here is a side by side comparison as viewed from the top. Big difference huh?

2. Weight – GX85 is lighter
Weighing in at 505g the G85 is a good 79g heavier than the GX85. Neither are heavy but if you are using your camera all day hiking or traveling with just one bag, those 80g start to matter.
3. LCD Monitor – G85 has a fully articulating screen
While they both have pretty much the same monitor, 3 inches large with the same resolution, the mount differs a lot.
The GX-85 has a tilt screen that tilts up 90° or down 45°. Whereas the G-85 has a fully articulating monitor that can be flipped out and rotated 180°.
The fully articulating screen makes it a lot easier to take shots from unusual angles, especially in portait mode where the the tilting screen is rather limiting.

4. Viewfinder – G85 has a nicer electronic viewfinder
Without getting too deep into the EVF technologies, the G85 has a nicer OLED panel that provides a steady high resolution.
The GX85 has field sequential technology which can cause some unwanted effects when shooting into bright sunlight. It's usable but takes a little getting used to, if that makes sense.
5. Battery-life – G85 has a longer battery life BUT.
As a travel photographer this is the one con on the GX85 that actually matters to me. Battery life is worse o the GX85 and is very important when you are on the road.
BUT… and this is a big one, the GX85 does have in-camera USB charge which is incredibly valuable when traveling.
You can't use the camera while charging but you can charge a battery anywhere with an external battery charger, even on the way to somewhere. I also carry spare batteries.



On the Panasonic G85, USB charging was skipped in favor of a separate battery charger which must be plugged into a wall, which can be a real pain when traveling internationally.
If you lose or fry the charger, you are dead in the water until you buy another.
6. Video features – G85 is better suited for video enthusiasts
The G85 has some great features for those who are buying a camera for video purposes. It includes a mic-input as well as certain image profiles like Cine D or Cine V. If you are a proficient video editor, you will need these features.
On the GX85, mic-input is missing, as well as the Cine profiles. Although there is, of course, a built-in mic.
That said, if you do not use an external mic or do video grading, you will enjoy the video from both of these cameras.
The image stabilization results in stunning smooth video that is noticeably movie-like. It's so good many people rave about the Lumix GX85 for vlogging.
7. Wireless Flash Trigger – G85 can trigger wireless flashes natively
If you are using strobes to light a scene, your camera body needs to trigger the wireless flashes and it usually does so using a radio signal.
The GX85 does not include this feature, but the G85 does. So if you intend to do studio work, this might be an important difference for you.
One little trick if you do go with the GX85 is that you can buy the tiny LX100 flash part and pop it in your hotshoe and it will trigger the wireless flash. Shhh…
8. Price – GX85 is more affordable
And we come to price. Sometimes I wonder whether I should start here, but in this case, the cameras are not in a whole different class of price. Both fall within the $500 – $1000 range with the GX85 being closer to the low end of the range.
Conclusion – Which one is better?
To be honest, in the shootout between the Lumix GX85 vs G85, everybody wins. Both are excellent and what really matters is what you like to shoot.
If you are more interested in being out and about with your gear, such as street photography, everyday use and travel photography, the Panasonic Lumix GX85 is a great fit. Small and light, it doesn't get in the way and looks somewhat like a point-and-shoot rather than an intimidating SLR. You are more likely to carry it around everywhere.

Shop now for Panasonic Lumix GX85
If you are more interested in perfecting your strobe lighting, studio work or making excellent video footage, the Panasonic Lumix G85 is a great fit. With it's ability to trigger wireless flashes, external mic input and video profiles, you won't be let down by it.

Shop now for Panasonic Lumix G85
I honestly don't use flashes or mics anymore, as my work currently is mostly travel-based. So for me, the GX85 is absolutely the better camera for travel photography. In fact, I think it's the best camera for travel photography.
This post has affiliate links. As an Amazon Associate I earn from qualifying purchases. The opinions presented are my own.