Most people go to Tulum for its white sand beaches, Mayan ruins or perhaps the cenotes. But downtown Tulum is actually a great place to take pictures as well. There's a lot of cute little stores and it's a good spot for a photowalk.
We walked along the main street which is the Cancun-Chetumal Road, the same one that the main bus stop is on.
Grab your camera and keep an open eye for great colors and scenes.
The Nitty Gritty
What to expect
This one's easy peasy, just a photowalk down a cute street with a charming set of shops. Carry a walkaround lens or even just your phone.

Most vendors didn't mind photography, noone said a thing to me. Just smile and be positive.
Versatile Gear

Just your walkaround should do the trick for this one. And of course you could also use your phone or a point and shoot. Recommended walkarounds below.


For micro four thirds, check out this article on the best micro four thirds lenses for travel.


For Fuji cameras, check out this article on the best fuji lenses for travel.


For Canon, the Canon EF-S 18-135mm f/3.5-5.6:





And here's an excellent point and shoot, the Canon G7x Mark ii

Colorful Souvenirs
I don't like to buy a lot of souvenirs. I usually end up finding one thing that I find really beautiful and then I spend the rest of the vacation looking for the perfect one to take home.
On this particular trip, which was actually a 'honeyfunded' adventure, we were going to Mexico and Guatemala and the souvenir I was excited about getting was a bed covering.
They have some incredibly gorgeous fabrics in Guatemala and I ended up getting a golden yellow sheet that practically glowed.
The rest of the time, I just enjoy souvenirs by shooting their colorful variety – like these painted skulls or woven hammocks.

Camera
Canon EOS DIGITAL REBEL XTi
Date & Time

Camera
Canon EOS DIGITAL REBEL XTi
Date & Time
I liked this skull because it seemed a bit incongruous among the painted masks. I mean, I know, animal skulls are so trendy and I'm sure that's why they're being sold.
But I still think they have an interesting and beautiful shape.

Camera
Canon EOS DIGITAL REBEL XTi
Date & Time
Apart from the obvious tourist chotckes, there's also just the stores selling vibrant and beautiful fruits and veggies.
To focus on the organic shapes and colors, zoom in and let them shine without getting too many distracting details in.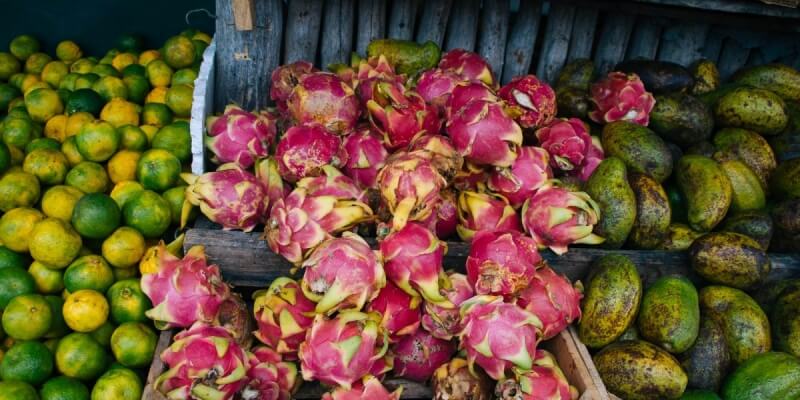 Camera
Canon EOS DIGITAL REBEL XTi
Date & Time
Street Scenes in Downtown Tulum
As I walked around, I decided to do a little street photography and shoot any cool scenes I saw.
First thing that caught my eye was this cute little bug in bright pink.

Camera
Canon EOS DIGITAL REBEL XTi
Date & Time

Camera
Canon EOS DIGITAL REBEL XTi
Date & Time
It's weird whenever I visit a new location, just a regular walk down the street results in a lot of interesting scenes. But after I've been somewhere for a while, I find it a lot harder to look at things with a new eye.
The bright colors of a new place always inspire me – somehow all the scenes and tones have a freshness about them.
Tulum was a spot we picked to start our trip down to Guatemala to see the pyramids at Tikal. Another option to see pyramids nearer to Tulum, especially if you don't want to leave Mexico, would be to visit Chichen Itza.
I thought this beautiful door was worth capturing as well with its intricate carvings.

Camera
Canon EOS DIGITAL REBEL XTi
Date & Time
Golden Glow
As we kept walking the sun set and bathed the street in a beautiful glow. I positioned myself behind this huge dreamcatcher to silhouette it against the sky.
Using a wider aperture let the background blur details into a hazy summery feel.

Camera
Canon EOS DIGITAL REBEL XTi
Date & Time
We actually saw a rainbow as we were walking back to our hostel, but I couldn't get a good shot of it.
Still, it felt like a pretty good end to the day and I came away with some great photos to take home.
Obviously, it's not an incredible landscape or anything, but I enjoyed shooting the colorful scenes and charming shops in downtown Tulum.
If you enjoyed this post, do share!
This post has affiliate links. If you use the link, you don't pay anything extra but Sidecar Photo gets money for another glass of wine!
Read More
free
kid-friendly
markets
phone-friendly