Myanmar (previously known as Burma) is full of mind-blowing places that are incredible for photography. There are thousands of temples, beautiful glassy lakes on which lie floating villages, and lush, green jungles. I've documented some of the best photo spots in Myanmar to help you plan your trip.
I went to Myanmar in August 2016 with a group tour. I was traveling solo at the time, and wanted a small group to go with to share the experience. Because it was pre-planned and it was a stressy time at work, I decided for this trip – No Research! Just enjoy!
Needless to say, I was stunned by locations like Shwedagon Pagoda, Bagan and Inle Lake. When I got back, friends could hardly believe my Myanmar photos were real!
Myanmar has been cut off from the world for a while so much of the culture and lifestyle has been preserved. It's opening up to tourism and the numbers of tourists are growing rapidly. But at least for now, it delivers a very unique experience in South East Asia.
Best Photo Spots In Myanmar
Below are some of the places I visited. They are some of the best Myanmar photo locations. You can use these posts to build your own Myanmar photography tour. Of course, there are even more places in Myanmar that are amazing so watch this spot for new entries! Most of the entries link to a post with even more details and location-specific tips if you wanna check it out.
The following are some of the best photo spots in Myanmar.
Shwedagon Pagoda in Yangon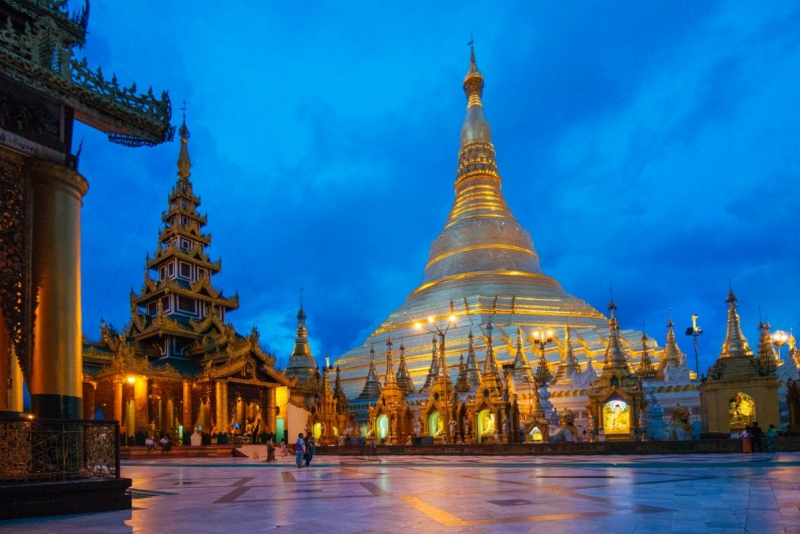 One of the most incredible spots is the Shwedagon Pagoda. This massive gold pagoda located in downtown Yangon is one of the most sacred sites of buddhism.
The best time to go is at sunset and after, when the light goes from gold to blue. And you'll want to take a wide lens so that you can get it all in because it is a very large and grand monument.
I was stunned at the beauty of Shwedagon Pagoda and I'm certain you will be as well.
Chinatown at Yangon 19th Street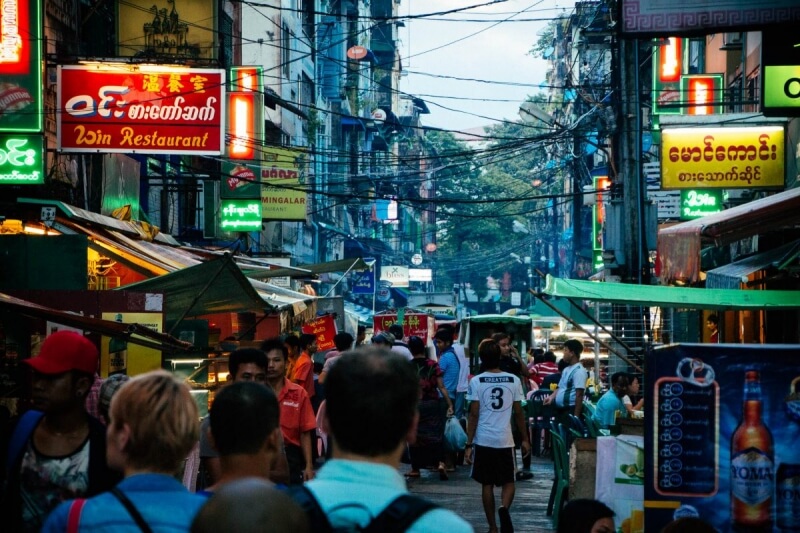 Like any respectable city, Yangon has a great Chinatown. Food and fish and chickens abound in this atmospheric marketplace that is also famous for it's barbecue. This area is perfect to capture the bustle of yangon life and is a real market for locals, not a tourist spot for tchotchkes. You'll capture some smokey street scenes, bright veggies and haggling locals.
Yangon Circle Train

This is a local train you can take for a ride around Yangon. Once you get on the train, it slowly circles through 38 stations with a variety of photo opportunities on and off the train.
You'll see vendors selling their wares such as quail eggs, sweets, paan and fruit on the train, local markets at the stations selling lunch, fruit and vegetables and everything else. You can even get off at a few stops to explore more.
Shwesandaw Pagoda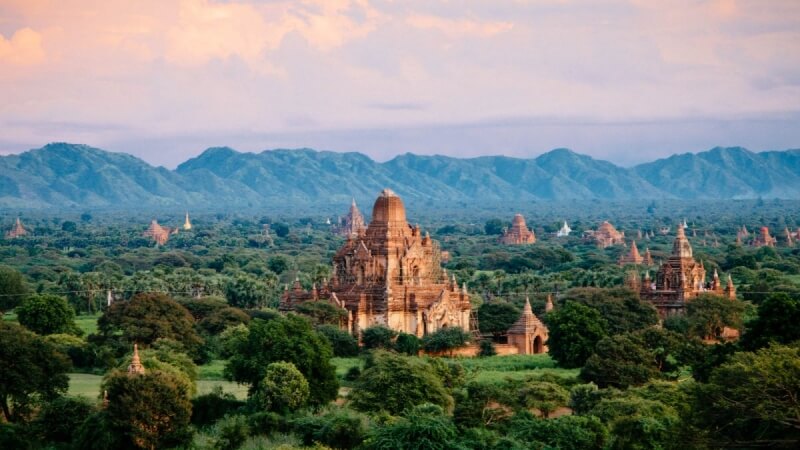 This is one of the temples you can climb to see incredible views of the Bagan temples. This temple is actually closed for climbing as are many in the area but I provide alternate recommendations in the post linked below. There are few places in Myanmar as instantly recognizable as the Bagan temple region.
The field of temples are just really surreal and otherworldly – you almost feel like you're in a fantasy movie. At sunset and sunrise, the lighting is not to be missed.
Honestly in this incredible area of Bagan, photography gets too easy, everywhere you look is a shot waiting to happen.
Inle Lake

Inle Lake is definitely a must-see. An expansive lake with fishermen and floating villages, and a number of little artisan workshops to stop at, it's not just a boat tour with views.
That said the views are quite stunning as you have the whole sky reflected on the water as you cruise along.

Green Hill Valley Elephant Camp

This was a tour where we got to bathe the elephants in the river. It was a beautiful peaceful experience after which we planted trees in the forest.
There's a lot of questions about which camps are ethical and not and to my understanding this camp rescues logging elephants and did not do rides or even have large groups with the elephants.
We had a wonderful and memorable experience with the elephants at Green Hill Valley Camp and got some amazing photos of these beautiful beasts.
Bagan Lacquerware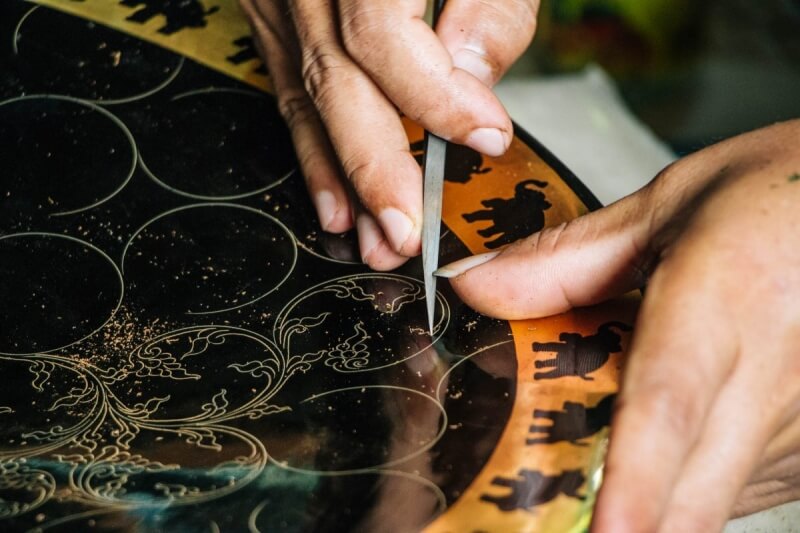 I know most travel photographers tend to lean pretty heavily on landscapes but I have to admit, I love being crafty. And with that comes a respect for artisans of all sorts. Making stuff by hand is such a rapidly disappearing skill and if I can get a chance to check out – or make – some of these things myself I always do.
This factory had some skilled artisans making lacquerware products and it was very cool to watch and shoot.
Hope you enjoyed this list of great places for photography in Myanmar. Of course there are a lot more and I'd love to add to this list so shoot me an email if you have more suggestions.
Gear
I often get asked what camera I use to shoot these photos. These shots were mostly with the Canon 70d, an excellent DSLR, and a walkaround lens.


Buy Canon 70d with 18-135mm Lens Now
However I've since switched to a micro four thirds camera, which gives me the same flexibility in a much smaller package.
This post has affiliate links. As an Amazon Associate I earn from qualifying purchases. The opinions presented are my own.