The Ballestas Islands is a set of small rocky islands off the coast of Paracas, Peru. We saw a dizzying number of birds, as well as sea lions, penguins, starfish and crabs and we thought it was totally worth it. They're called the poor man's Galapagos, because of the surprising amount of wildlife that call the islands home. And well, we're always down for the poor man's version of most things, especially when I can get some spectacular shots.
The other cool thing about the islands that the guides don't really tell you about is the fascinating history of guano in Peru and how it's linked to this remarkable set of islands.
Ballestas Islands –  Worth It?
You get to Ballestas Islands from a town called Paracas, also home to the Paracas National Reserve. From the little town, you take a boat ride in the morning with various tour companies. We booked the Ballestas Islands tour with Paracas Explorer on FindLocalTrips.com and found them to be a good, safe option.
I think you can also go as a day trip from Lima, but we were headed there on the PeruHop bus from Lima to Arequipa.
The boats seat about 30 or so people comfortably, each person gets a lifejacket and their own seat. It's very steady and you can easily take your camera equipment on board with little fear of getting wet at all.
I sat on the right side of the boat, and as usual I felt the left might have been better? It's a running battle I have with myself, is the other side really better or is this just a version of the grass being greener?
Not for Birdophobes
Anyway off we went, and at first the islands just look like a bunch of uninhabited chunks of rock. As you get closer though, you realize the surface is moving. Teeming with hundreds of thousands of birds. Yes, that white stuff – birds. The black stuff – also birds. It is an insane amount of birds.

Needless to say, this could be terrifying to someone who is scared of birds. Also if you're wondering what to wear, possibly a rainjacket or cap in case the birds decide to bless you with a little something. No need for swimwear, you won't be getting wet. Sneakers and jeans are fine. They made it sound like everybody gets showered in poop but almost no one on our boat actually got pooped on so it's not that bad.
Humboldt Penguins
One sight on the Ballestas Islands tour I was super excited to see were penguins. There are only a few Humboldt penguins in Peru because they are a threatened species. Sure enough, we saw a little trio of them almost right away, making their way down the rock. Do you see them?
Seeing them right away was so awesome and made Ballestas Islands worth it for us within the first few minutes.

When shooting wildlife, it can be really helpful to understand how to use the burst mode of your camera. High speed burst can be a bit much, but a medium burst works well for this situation. You might have one chance to catch these creatures so you want a few good shots to pick from. My Panasonic GX-85 even has a 4k video mode where you can take a short video and extract the exact photo you want from it!
A good long zoom is of course pretty key. Aim for at least 200-300mm on the long end.
Another important thing to watch out for is what the background looks like. The thing with wildlife is, well they really don't want to be easily spotted. Because that's kind of dangerous in the long run. So they tend to blend into the background pretty easily.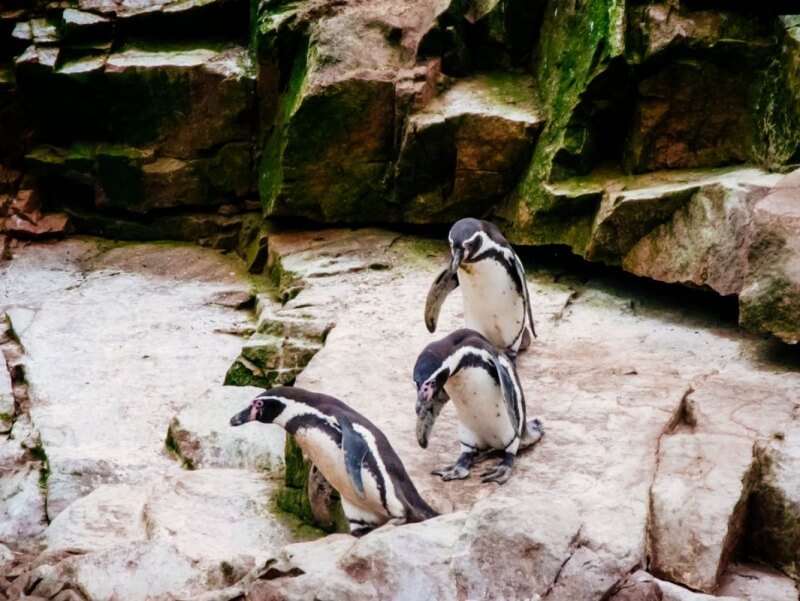 So you need to catch a moment when they aren't blending into their background as much. Notice the penguins stand out pretty nicely against the light colored rock in this shot.
Boobies and Pelicans
Peruvian Booby – yep, that's the name of these birds. They are the second most important guano producing bird – guano being yes, bird poop, but also an incredibly important fertilizer. Did you know that because of guano, Peru controlled the entire world's fertilizer industry for four decades in the 1800s? The history of guano is pretty fascinating.
Wars were fought for the guano in Peru. The United States passed the Guano Islands Act so US citizens could head off into the Pacific and take possession of islands containing guano deposits.
We now have the Pacific Remote Islands National Monument in the middle of the ocean that comprises of these islands. To hear the whole story check out this 99% invisible podcast.
Suddenly these not-so-exciting birds are quite interesting! And not just for their funny name.
In this shot, I tried to get the boobies against some green rock, because they stood out nicely with their black and white bodies.

Watch out for the pelicans. There are a lot of them, so they might be boring to some, but I've always loved these large, clumsy looking birds. These are Peruvian pelicans (surprise!) and check out their beaks – they have some interesting colour and pretty dramatic feather patterns.


Isn't it a beautiful bird? The Ballestas Islands tour in Peru may not make most people's bucket list for South America, but for sights like these, it's well worth the stop.
Ballestas Island Formations
As the boat moves around the islands, take a moment to also appreciate the larger shapes and compositions the rocks create. The jagged rock formations can be quite beautiful and make for interesting compositions.

At times, just the contrast in color between the green moss, the red rock and the blue of the ocean caught my eye.

And sometimes, you catch a sea lion taking a warm sunny nap. They don't stand out much from the rock but I figured, not much chance catching this guy moving to another background. He was pretty happy where he was.

The Boat Ride Back
Finally we were off heading back, and for whatever reason, streams of birds went with us. This was a truly stunning part of the trip, and I thought we were done at this point. The birds were everywhere, flying right alongside the boat, up and around us. Diving into the water repeatedly as they spotted fish or shrimp.

With the bright sky and the light reflecting off the lake, you will probably want to over-expose to get good shots. Or the camera will turn the whole sky mid-grey. The birds might turn into silhouettes but you can use that artistically. Now is not the time to get details, but to look for larger dramatic compositions.

Be Present
It's also almost impossible to capture the feeling, the bright sky, the sea salt smell, the wind in your face and 360° of birds (yes, 360° because of the reflections). Never forget to put your camera down for a while and just enjoy the incredible sights. It reminded me of Inle Lake, no birds but again a 360° experience that's hard to capture and worth being present for. The Ballestas Islands tour in Peru was worth it to me for this unforgettable moment.

Never forget to put your camera down for a while and just enjoy the incredible sights.
That's something I think about a lot as I travel and shoot – how to sometimes capture the moment in my memory and heart rather than from behind the viewfinder. The Ballestas Islands is definitely on my list of memorable places I can close my eyes and remember. Even though I do love all the incredible shots I got too. Another truly memorable place would be Puerto Maldonado, also in Peru.
This post has affiliate links. As an Amazon Associate I earn from qualifying purchases. The opinions presented are my own.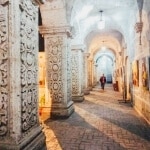 Peru has so many intensely beautiful natural and manmade sights. See what else there is to visit in Peru.
Read More
animals
nature
water
wildlife
zoom