Birch Aquarium's jellyfish and seahorse exhibits are pretty fun to shoot and result in some gorgeous images. This is a sweet, little aquarium in La Jolla, California that makes up for it's smaller size with quality exhibits.
Plus, it's not as crowded as bigger aquariums so you can take great photographs of the sea life without fighting the crowds as much.
Monterey Bay Aquarium is huge in comparison but when I visited, I could barely get to the tanks without being stampeded by a sea of kids who somehow don't think that adults are allowed "a turn" at seeing the exhibits.
I much prefer the relaxed atmosphere of San Diego's own Birch Aquarium for photography. It's definitely still a kid-friendly place to go shoot so if you're travelling with family, this might be a good stop.
The Nitty Gritty
Incredible Colors of the Deep
Like most aquariums, Birch aquarium is fairly dark with spotlit tanks. This makes for some challenging lighting but also leads to some incredible shots.
You have to watch out for the speed of the moving fish making it harder to use longer exposures.
So you need to go with the fastest lens you have, i.e. the one that allows the widest aperture, and use the highest ISO you can bear.
I took these photos a while ago and at the time I was shooting with the Canon XTi. Loved that camera but the ISO definitely got too grainy at ISO 800 so I was forced to keep it to a maximum of ISO 400.

Camera
Canon EOS DIGITAL REBEL XTi
Date & Time
I love how vivid the yellow of the fish is against the blue of the tank. You get a lot of opportunities like this due to the bright colors of the sealife, which is why this can be a fun place to go shoot.
Check out this lionfish below. Actually, I'm not sure why is this called a lionfish and not a tigerfish?! Lions don't have stripes. Strange.

Camera
Canon EOS DIGITAL REBEL XTi
Date & Time
You can tell with this shot, I had a very narrow depth of focus, which is due to the wide aperture I needed to use for this capture.
With a newer camera, you can use a much higher ISO, which will let you stop down some to get more in focus if you need.
I'd definitely like to go back with my 70d and spend an afternoon there seeing what I can capture. This is one of those instances where the gear can make or break a shot.
Things to watch out for
Reflections can be a real problem with glass surfaces. They can ruin your photos and it's very easy for our brains to ignore them and focus on the fish.
But your camera will capture them and before you know it, you have a toddler shaped splotch on your photo!
Shooting dead on instead of at an angle can also help, especially if you wear black yourself.
Carry a lens cleaning cloth to wipe fingerprints off the glass before you shoot.
Pro-tip: Use a rubber lens hood that will block out the light without damaging or scratching the glass.
The way this works is that you can  put it up against the glass and it will seal out light so that you don't see any reflections.
The flexibility of a rubber hood is key to making this work because you have some flexibility to angle the camera instead of only shooting dead-on.
Birch Aquarium Jellyfish
At the Birch Aquarium, jellyfish are fed twice a day with what looks to be clouds of white dust designed to ruin your photos.
The best tip I can give you for shooting the beautiful jellyfish is to Avoid. Lunch. Time.
Their lunch time, that is, not yours. Unfortunately I could not find a definitive schedule for when they feed them. 

Camera
Canon EOS DIGITAL REBEL XTi
Date & Time
Don't miss out on the moon jellies which they light up rather spectacularly.
They're so well-lit I would think you'd be able to capture them with your phone as well.
I love how incredibly alien they look, the patterns of light almost remind me of a circuit board. Beautiful creatures.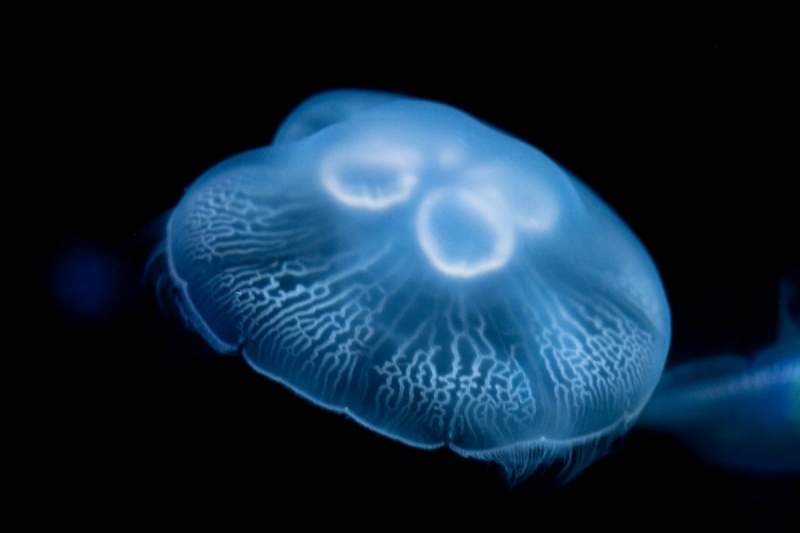 Camera
Canon EOS DIGITAL REBEL XTi
Date & Time
Don't Forget the Flora
Other than the fish, the plants in the tanks can be quite beautiful too, so definitely look for good shots of these. Sometimes you can find a fish nestling among the fronds and that can be a nice frame for the shot.
Coral reefs are fast disappearing in the real world, so it might be harder to see these in the real world soon, which is truly sad.

Camera
Canon EOS DIGITAL REBEL XTi
Date & Time

Camera
Canon EOS DIGITAL REBEL XTi
Date & Time
Birch Aquarium Seahorses
Birch Aquarium always has a couple of exhibits that are changing, which is a good reason to go back and visit.
When I went, there were some beautiful seahorses which I find really unusual and unique. I would love to see one in the wild, but I'm not sure how likely that is.
Seahorses are very endangered by the warming waters of the ocean. Apparently they are often illegally collected too – for medicinal purposes as well as by hobbyists. Which definitely sucks. If you think something so delicate is so beautiful, do you really want to endanger it further?
Most hobbyists are unable to keep these delicate creatures alive in captivity. Birch Aquarium on the other hand, very much know how to protect them. And we're lucky to get a chance to see them there!
You'd be happy to learn that as of May 2019, the Birch Aquarium Seadragons and Seahorses exhibit will be permanent.

Camera
Canon EOS DIGITAL REBEL XTi
Date & Time

Camera
Canon EOS DIGITAL REBEL XTi
Date & Time
They also have a great shark tank with such fast moving sharks, I struggled to get a good shot.
Again, perhaps a return trip with my higher ISO Canon 70d would allow me to capture that.
You can also go touch some creatures in the tide pools as well, although I much prefer to shoot tide pools in the wild.
Final Words
Birch aquarium is really a pretty great place to spend an hour or two and shoot some great photos. It may not exactly be travel photography, but it can make for a fun and educational afternoon.
This post has affiliate links. As an Amazon Associate I earn from qualifying purchases. The opinions presented are my own.
Read More
kid-friendly
macro
nature
phone-friendly
tickets